on wednesday of this week, wes and i decided to step out and attend a really cool get together that our friends at
profile east
put together. it was a halloween party at a great murder mystery theatre here in orlando called slueth's mystery dinner shows. wes and i were also invited to talk about our studio and show some of the stuff we've been up to. well, i feel it was a huge success and something worthy of a blog post! if anything, as you'll see, it definately is perfect for a halloween blog post.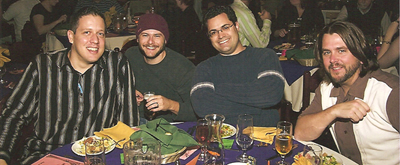 (from left)
gary davis--
autodesk 3D animation and compositing specialist
, me--
goober
, wes grandmont III--
cool guy
, rick pumphrey--
autodesk territory manager for southeast america
there were around 80 people in attendance and our demo really seemed to please. wes and i have done several talks, demos, and classes seperately...but never together. i have to say that i think we work well together;) wes stood up front with the mic and talked about the studio while i got set up. he gave a little backstory about our work on the iron and the maiden project(the chase massacre) while i provided a little color commentary. ya see...i like to think i'm funny. once i was set up we showed footage from the chase massacre. people were really floored and applauded quite a bit when it was finished.
wes then talked about squish squash--our upcoming iPhone game--while i showed a slide show of mathias' artwork for the game. some stuff we've posted here, other stuff that's brand spankin' new. don't worry, i'll be sharing mathias' new artwork for squish squash this weekend.
after that i added to our squishy halloween themed presentation by providing a little splatter. i talked about our current work on namco's upcoming revival of the original survival horror game and huge cult hit...splatterhouse. we're helping our friends at
bottlerocket
with this game by providing character art and animation. i did a quickie demo on how to model and texture brains on one of the zombies we'd modeled for splatterhouse. things went smoothly as i showed off some of the coolest features of mudbox 2009. finally, we showed something extra special. an exclusive world premiere teaser for splatterhouse!!
see, when i told the guys at bottlerocket that we were doing this halloween themed demo for the studio...they proved to be a very generous client indeed. they allowed us to show artwork for one of the many zombies we created for the game and then they surprised us with the opportunity to show an exclusive video that was only going to be available one other place. it was awesome and was received very well by the crowd.
after the demos, we were all treated to dinner, free drinks, and a very, very entertaining murder mystery show.
we would like to thank the folks at profile east for giving us this great opportunity and we'd like to thank bottlerocket for the great video.
now, as our little halloween treat for you folks, take a peek at the exclusive trailer for yourselves...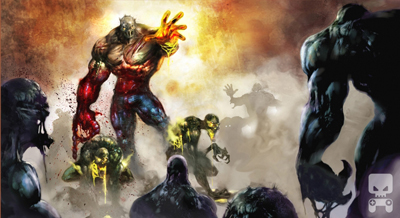 click on the image to view the preview.